---
When Mike C. moved out of the neighborhood he gave me one of his books. It was Fifty Hikes in Connecticut. A Guide to Short Walks and Day Hikes in the Nutmeg State...by Gerry and Sue Hardy. I decided I wanted to attempt all fifty hikes over the next couple of years. Well, it took me two years to get to the first hike, and who knows if I will ever do all fifty....but I am going to try to get them all completed. As 0f August '99 I have given up on doing these in order. Many of the half day hikes are not very challenging and will wait for a "casual hike" day, therefore I will do the hikes as they become convenient.
Hike #1 Oak Grove, Manchester 6/13/98
Hike #2 Great Pond, Tariffville 7/4/99
Hike #29 Mount Higby 10/30/99
Hike#37 Heublein Tower 8/22-23/99

Hike #1 Oak Grove,
Manchester, Rockville
Highlights: Pond, covered bridge

Total distance according to the book was 1.25 miles and should take about thirty minutes. It took Eileen and I twenty minutes....and that was with a couple of stops to take pictures. We were probably walking faster than a "hike" since we have been used to a fast walk exercise program. It was a pleasant, serene atmosphere and a nice short hike. Rating "D" ("Flat terrain, little or no elevation change, easy footing").
Click the pictures to enlarge them and use your browsers BACK button to return to this page.
---
Hike #2 Great Pond,
Tariffville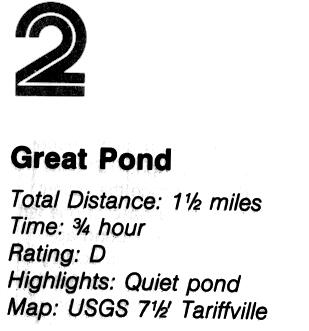 Eileen and I attempted this hike in '98 but when we got to the parking lot the number of mosquitoes drove us away. It took a year but I headed out for Great Pond early on Saturday morning. When I was a mile from my destination it began raining, and by the time I pulled into the parking lot it was coming down real good.I had brought a throw away camera with me, but without a flash the pictures didn't come out. I had come prepared this time. I used my cutters bug lotion, put on an ugly yellow rain coat and headed out. The skeeters and gnats were pretty bad and got worse the closer to the pond I went. Some of the paths were a little overgrown and with the rain I had to duck under many bushes/branches. It took me an hour for a 1 1/2 mile hike but walking completely around Great Pond was worthwhile and even scenic in the rain. I would like to take this hike again on a DRY. day.
---
Hike#37 Heublein Tower
Avon
Highlights: Scenic reservoir, views, tower
I did a Saturday and a Sunday hikes off of the Talcott Mountain Reservoir map before I realized I had done the advertised 7 mile hike #37. The lower 3.5 miles of this hike consisted mostly of a dirt road circling the Reservoir #6 spillway. I wouldn't do this piece again. I felt out of place with my boots and water bottles. All of the people (too many) people I ran into were walkers and joggers. The second day I parked my car at the far end of the spillway and only had to travel a short distance on a dirt road before the trail began. This was a pleasant hike that the book rated as "C" ("Average terrain, moderate ups and downs and some need to watch footing"). The views were worth the hike and I was glad I had packed a camera. Click on the pictures to enlarge and use your browsers BACK button to return here.
| | |
| --- | --- |
| | This was the trail going up. |
| My first view of the Heublein Tower.... | |
| | This pavilion at the summit is where I ate my lunch and the view is from the pavilion. |
| This barbecue pit was built by the Hartford Times (newspaper) in May of 1953 for a party occasioning the nomination of President Dwight D. Eisenhower. | |
| | Photos of Heublein's "summer home" |
| | The "Heublein Tower" and a wonderful outdoor fireplace. |
Hike #29 Mount Higby
Middletown
Highlights: Cliff views, volcanic formations
The book indicates 5 miles at 3 1/4 hours. Rating "B" ("Difficult terrain, steep climbs, considerable elevation gain or some poor footing or both"). The book also shows back tracking the first 2.5 miles to get back but I went with Steve G. who had a map showing the other end of the hike. We left a vehicle at the end and did this hike from one end to the other which was probably just a little over the 5 miles. It was a difficult enough trail to require many stops (mostly for me 'cause I am not in as good of shape as Steve) for water and to catch our (my) breath. I forgot my camera, but it was so foggy that early in the morning that when we reached the top you couldn't see anything anyway. I will do this hike again because it was a challenge for me and I would love to see the view.