Once a year Mike comes up from the DC area and we take a camping trip. Eat the good stuff, drink a little (less every year) and insult each other for three or four days. Click on the pics to enlarge and use your browser back button to return to this page. Any of Mike's comments will have a suffix of (MC). Visit with us again next spring.......

This was our April 1996 trip to Odetah in Bozrah CT. Keep your eyes open for the 'Evil Eye'. You won't see it after '96. Here's Mike. Don't know if he's building the fire or just fazing out.

This picture SUCKS but we need to remember that Mike P. stopped by for 'a couple'. He made himself very comfortable as you can see. ==>

"Those were the days!"
---
In April 1997 Mike brought his friend "pink dolly". Breese wanted to make sure he wasn't lonely. We went to Odetah again this year.
"Ron practices technique for dropping perfectly cooked hamburger through the fire grate - or else he's hunting for a piece of sausage." (MC)...

<== "Too bad your dad didn't make this poker a little longer, Mike." (MC)..It needed to be longer. I almost fell out of the chair.
---
In 1998 we had a little trouble coordinating our schedules, so our usual April camping expedition was postponed until June. The weather was much milder so we decided to go to our "usual" and comfortable site #27 at Austin Hawes State Campground at the American Legion Forest in Winsted CT. Notice we were a little more athletic this year

and went on what turned out to be a three and a half hour hike to Turkey Buzzard Ledge near the campground.

Mike and Ron "hamming" for the camera.
---
June 1999 we went to Austin Hawes again. We didn't know exactly when we would be able to go until two weeks before the trip. We had site #15 assigned to us and we were relieved that it was as private a site as it was. We had the old Cherokee along and took a couple of trips to nearby People's Forest and hiked two separate sections of the Jessie Gerard yellow trail. The town by the river as seen from the overlook is Riverton, CT.
We had visitors. Dan and Big D. Guess who drank Mike's last beer.
Here is the new addition to the campsite. The QuikShade.
We were good and had bagels for breakfast, tomato sandwiches for lunch and only cheated at supper. Excellent grinders from the New Hartford Grinder shop with their homemade roasted peppers and a nice campfire chili in a cast iron dutch oven.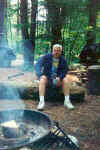 Visit with us again next year. As Mike would say "COOL RUNNINGS".
---
June 2000 we went to Austin Hawes again. Site 25 was very spacious. Mike drove up this year and brought most of his gear. I left my camper at home and we tent camped. The five day stay went by too quick as usual.
We had a lot of equipment and the set up took a while.

It was VERY hot and we rested a lot during set up.
The camp looked good when we were done....


.....and we eat a little healthier each year.


But we splurged a bit too as you can see by the great Sheep Herders breakfast that Mike cooked.
We did take a short hike to Turkey Buzzard Ledge.... and the Mountain Laurel was in bloom,


"The key is....DRY WOOD"

Mike wasn't sleeping...just too stubborn to open his eyes...

Mike sent along these photos...as you will see Damian paid us a visit again this year.
As usual the trip came to a close too soon.....see ya next year!
"CRs" from Mike and Ron.....
---
2001 and 2002 Mike couldn't make it. 2002 I decided to go to Austin Hawes for a week.
| | |
| --- | --- |
| The usual site. Notice the new Quik Shade. The other one fell apart. | |
| Another view... | |
| Damian stopped by to help make the camp fire chili and put away a few brews. | Another day Art, Dan and Tim stopped by but I didn't remember to take pictures. |
| | Damian and I ...... |
| | I had just picked up a new (used) bike the week before so I brought it to the campground for a couple of days and cruised all the back roads in the area. |
I have sold my camper this past summer. Hopefully I will have something to use for summer 2003. Adios!